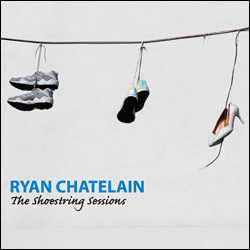 I have some exciting news!  
On December 11, I will be releasing a new album. It's called "The Shoestring Sessions." 
I've been working on this album most of this year — and in many ways, I've been working on it for the past 16 years, which is when I released my first album, "Public School, Fast Food and Blue Jeans."  
Needless to say, this is way overdue.  
"The Shoestring Sessions" is true to my style. It's rock, it's pop, it's country. It's catchy. It's fun yet sad. It's loud at times, and it's coffeehouse quiet at others.
I had the pleasure of working with Brandon Pembo (bass), Roddy Ory (drums) and José Mora (guitar) again on this album, and I'm really proud of what we've created. I hope you'll check it out. 
I will have more info soon on where "The Shoestring Sessions" will be available. I will also be sharing one of the songs with you before the release date, so check Facebook, Twitter and right here at the newly redesigned ryanchatelain.com. 
Also, I will be playing a virtual album release party on Thursday, December 10 at 9 p.m. Eastern/8 p.m. Central on my Facebook page — every song on the album performed acoustically. (Trust me, reminders are forthcoming!)  
I hope all has been well in your lives despite this difficult year. Thank you for all your support. I'll be in touch with more details soon. 
--Ryan